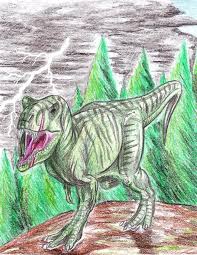 Storm was a large Tyrannosaurus from the story series The Fight To Survive by Rex Fan 684 of the Jurassic World Forums.
Background
Edit
Storm was about 45 feet long and weighed over 8.5 tons. He was the main character in the story The Fight To Survive. Storm was also featured in the story's prequel The Fight To Survive: Synca. There are rumors he'll appear again in two more stories. For a detailed background on Storm, it's suggested that you contact Rex Fan 684 via Wikia or the Jurassic World Forums.
Fight Involvement
Edit
Storm was entered into the fight by his creator, Rex Fan 684. Storm could have made it very far if he wanted to, but after the fight got very intense, he thought it better to leave. He prefered to live on rather than risk his life, in his mind, needlessly. He left due to the fact that Scarface came near to Storm, and Storm was injured, so he took a run for safety. When he hit the force field, he was lost from the game and by accident, got last place.